Former LTTE Tamil Terrorist Gun Runner K.Pathmanathan's (KP) Interview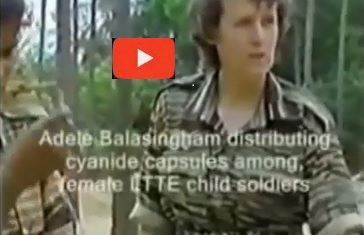 LTTE Tamil terrorist Crime against Humanity 
OCPR Reports, Research publications, legal proceedings & submissions, and Collection of subject-related articles.
November 14, 2021
The Tigers Abroad
How the LTTE Diaspora Supports the Conflict in Sri Lanka
Dr. Peter Chalk
The article initially published on Georgetown Journal of International Affairs, vol. 9, no. 2, Summer/Fall 2008, p. 97-104.
October 25, 2021
Decision against ITJP UK can be found here.
Decision – The Czech Arbitration Court (CAC) ruling against International Truth and Justice Project (ITJP), UK.
Submission against International Truth and Justice Project's domain dispute itjpsl.org
Yasmin Sooka is an executive director (as claimed in the proceedings) of the heavily biased project — so-called Human Rights Project; that substance to Sri Lanka armed conflict between the Liberation Tigers of Tamil Eelam (LTTE) and Government of Sri Lanka forces.
September 14, 2021
Tamil Diaspora Politics
Ember, Melvin; Ember, Carol R.; Skoggard, Ian
The article initially published on the Encyclopedia of Diasporas, Springer US, 2005
August 15, 2021
Terrorist Organization Offences and the LITE: R v Vinayagamoorthy
Sentas, V.
The article initially published on Current Issues in Criminal Justice, 22(1), 159-170, 2010. 
July 14, 2021
Is it Endgame for LTTE?
M. Mayilvaganan
The article initially published on Strategic Analysis Vol. 33, No. 1, January 2009, 25–39
June 16, 2021
Submission against the International Truth and Justice Project (ITJP) request for imposing sanctions on Sri Lanka Army commander Mr. Shavendra Silva
May 16, 2021
Webinar on Canada Focus:  Economic recovery from COVID-19 or Alleged Tamil Genocide, Bill 104 and Monuments?
Critical analysis of Alleged Tamil genocide and the asylum fraud
Panelists
 Dr. Chandre Dharma-wardana, Ph.D., Canada.
(Adjunct Professor at the University of Montreal, Canada.)
 Ranil Jayanetti., M.Sc. Switzerland.
(Human Rights Advocate, Switzerland.)
Dr. Neville Hewage, Ph.D., Canada
(Senior Policy Analyst, Ontario Centre for Policy Research. Adjunct Professor and Research Fellow, International Centre for Interdisciplinary Research in Law Laurentian University, Canada)
May 10, 2021
Submission of Notice of Constitutional Question to Superior Court of Justice to verify constitutional validity of Bill 104, Tamil Genocide Education Week Act, 2021. 
April 25, 2021
Submission to City Clerk, the City of Markham Regarding Proposed Resolution Tamil Genocide Monument in the public property
April 11, 2021
Webinar on Sri Lanka: Aftermath of UNHRC Resolution, what is next?
Had LTTE lost its political game forever inside the UN system?
Panellist: 
Tamara Kunanayakam, Sri Lanka.
(Former Ambassador/Permanent Representative of Sri Lanka to the UN at Geneva.)
Prof. Dr. (h.c.)  Mehmet Şükrü Güzel, Switzerland.
Director, Centre for Peace and Reconciliation Studies)
Jayaraj Palihawadana, Solicitor, Attorney-at-law, United Kingdom.
Moderator: Dr. Neville Hewage, Canada.
March 21, 2021
Buried Truth – UNHRC Reality
Buried Truth Premier 
Presenters: Dr. Neville Hewagee, Canada and Jayaraj Palihawadana, UK
March 14, 2021
Undermining UNHRC Principles: Is Resolution infringed Sovereignty of Sri Lanka
Panellist
Daya Gamage, B.A. (former Public Affairs Specialist with Department of State), USA.
Dr. Sarath ChandraSekera, Ph.D., Canada.
Hasaka Ratnamalala, B.A., Barrister & Solicitor, Canada.
R.P. Udawatte, Solicitor (England & Wales ), United Kingdom.
Dr. Neville Hewage, Ph.D., Canada.
Jayaraj Palihawadana, Attorney-at-Law, Solicitor, United Kingdom.
March 07, 20201
Sri Lanka: Justice for Tamils and UNHRC Reality
Tamil Civil Societies' response to reports of the United Nations High Commissioner for Human Rights
Panellists
Arun Siddharth, Convener, Jaffna Civil Society Centre.
Dr. Muthusamy Malaravan, Consultant Eye Surgeon, Teaching Hospital Jaffna.
Harsha Govinda, Founder, School of Civil Aeronautical Club, Jaffna Central College

February 23, 2021
Report of the Post-conflict Accountability and Reconciliation on Sri Lanka (ARSL). The report prepared for the UNHRC 46th Session
February 21, 2021
Webinar – Responding to Report of the United Nations High Commissioner for Human Rights on Sri Lanka (A/HRC/46/20) (YouTube)
Speakers:
Dr. Palitha T. B. Kohona
Ambassador, Former Sri Lankan Foreign Secretary & Permanent
The representative of Sri Lanka to the United Nations in New York.
Rt. Hon. Lord Naseby
House of Lords, The UK Parliament, UK.
Dr. Mohan Peiris
Permanent Representative of Sri Lanka to the United Nations in
New York, USA. Former Chief Justice, former Attorney General and President's Counsel
February 08, 2019
Technical Report on UNHRC Resolutions on Sri Lanka – submitted to Core Group Canada and the UK
February 06, 2021
Webinar on Facing the Geneva Reality  (YouTube)
Speakers
Professor Prathiba Mahanamahewa, Attorney-at-Law
Dean Faculty of Law, University of Technology Jamaica, West Indies
Dr. Neville Hewage, Ph.D. (ppt presentation) 
Adjunct Professor
International Center for Interdisciplinary Research in Law
Laurentian University, Canada.
Jayaraj Palihawadana, L.L.B, Attorney- at- Law, Solicitor UK
Convener, London Initiative – UK
January 18, 2021
A Letter Submitted to 46th UNHRC,  47 member states regarding accountability and Reconciliation on Sri Lanka
January 08, 2021
Report submitted to the UK Government – Minister of State for South Asia and the Commonwealth and Secretary of State for Foreign, Commonwealth and Development Affairs regarding International Independent Investigation Mechanism (IIIM) intend to propose at 46th UNHRC Session, Geneva, Switzerland. 
November 22, 2020, at 11:00 AM EST
Webinar on Democracy Under threat: Incitement and glorification of LTTE Tamil Terrorism 
Speakers Bio and Presentation Abstracts
Daya Gamage's presentation Transcript
November 15, 2020, at 11:00 AM EST
Webinar on De-proscription of LTTE Tamil Terrorist Group: The consequences for the Indian subcontinent and its geopolitical stability
Speakers' Bio and Abstract
October 30, 2020 (Full report available)
Report submitted to Secretary of State for the Home Department, House of Commons, House of Lords, the United Kingdom against de-proscribing LTTE Tamil terrorist group 
October 23, 2020
LTTE Tamil Terrorist Abuses against Civilians in Wanni Sri Lanka
Human Rights Watch
October 14, 2020
Submission against Petition No: 432 – 00052 Submitted by MP Gary Anandasangaree – Scarborough Rough Park
(Report submitted to the Honourable Francois-Philippe Champagne, MP, Minister of Foreign Affairs and others)
Sunday, October 04, 2020
Webinar on Withdrawal from the U.N. Human Rights Council Resolution 30/1: Sustainable peace thorough inclusive and a domestically designed reconciliation process in Sri Lanka
at 11:00 AM EST (Canada and US), 4:00 PM (London, UK), 8:30 PM (Sri Lanka), 7:00 PM (UAE)
Geneva and Central Europe 5:00 PM
Dr. Neville Hewage, Ph.D. presentation 
Critical Analysis of UNHRC OISL Report
Expert Reports on Final Stage of Armed Conflict between LTTE Tamil Terrorists
Control of Civilians movement by LTTE Tamil Terrorists 
UNHRC Investigation Report (OISL) on Sri Lanka
UNHRC Comprehensive Report on Sri Lanka
UNHRC Resolution 30/1 on Sri Lanka
UNHRC Resolution 34/1 on Sri Lanka
UNHRC Resolution 40/1 on Sri Lanka
19 September 2020
Webinar on Creating Conditions for A Sustainable Return: Safety and Compensation for Rohingya Returnees
Time: 3:00 PM (Dhaka); 7:00 PM (Melbourne); 10:00 AM (London); 5:00 AM (Ottawa, New York); 5:00 PM (Manila)
Concept of Webinar, Details of Panelists
August 16, 2020, 10:00 AM – 11:30 AM EST (US & Canada) -Webinar
Symposium on LTTE Tamil Terrorist Propaganda and their Infiltration into Political and Education System
Speakers' Bio and Presentation Abstract
Presentation Dr. Chula Rajapakse, MNZM, FRCP, FRACP (New Zealand)
Presentation Dr. Neville Hewage, Ph.D. (Canada) 
July 18, 2020
Symposium on Political Aspects of Alleged Tamil Genocide and Ontario Bill 104
LTTE Tamil terrorist propaganda and New recruitment strategies
Speakers Bio
Presentation Mr. Hasaka Ratnamalala B.A., Barrister & Solicitor
Presentation Dr. Neville Hewage, Ph.D. (Canada)
Presentation Dr. Isuri Dharmaratne, Ph.D. (Malaysia)
Reply to an email sent by Mr. Vijay Thanigasalam, MPP  to Members of Legislative Assembly Ontario regarding "Talking Points" dated July 02, 2020
Technical Brief Submitted to All Members of Legislative Assembly Ontario
Formal Complaint against Chair and Trustees of the York District School Board
Report submitted to Integrity Commissioner
Formal Complaint against Chair and Trustees of the Toronto District School Board 
Report Submitted to Integrity Commissioner 
Submission against the proposed alleged Tamil Genocide into the Ontario Curriculum
Report submitted to the Ministry of Education, Ontario 
Constitutional Challenge against Alleged Tamil Genocide Bill 104
Report submitted to the Committee on Regulations and Private Bills, Legislative Assembly of Ontario. 
Submission against Alleged Tamil Genocide Bill 104 introduced by Mr. Vijay Thanigasalam, MPP. -Scarborough Rough-Park
Report submitted to the Committee on Regulations and Private Bills, Legislative Assembly of Ontario.  
Background to Bill 104 proposing an Education week about an alleged Genocide of Tamils in Sri Lanka.
Report submitted to the Committee on Regulations and Private Bills, Legislative Assembly of Ontario.  
June 06, 2020. 
Zoom Webinar – Symposium on LTTE Terrorism and alleged Tamil Genocide
Critical analysis of  an alleged Tamil Genocide against Sri Lanka
Speakers' Bio and presentation abstract
Presentation – Dr. Neville Hewage, Ph.D. (Laurentian)
Presentation – Dr. Chandre Dharma-wardena, Ph.D. (Cambridge). 
Presentation – Dr. Sarath Chandrasekera, Ph.D. (Toronto)
Enumeration of Vital Events – 2011 – Northern Province, Sri Lanka
Published by Department of Census and Statistics, Ministry of Finance and Planning, Sri Lanka
Order – Gambia v. Myanmar
Request for the Indication of Provisional Measures
Application of The Convention on the Prevention and Punishment of the Crime of Genocide
Order from International Court of Justice, Hague. 
Report: Rohingya Refugee Crisis
Forced Migration of Rohingya: An Untold Experience
Mohshin Habib a, Christine Jubb b, Salahuddin Ahmad c, Masudur Rahman d, Henri Pallard e
a,b Swinburne University of Technology, Australia.
c Department of Environment, Land, Water and Planning, Australia.
d University of Nordland – Faculty of Social Sciences, Norway.
e Laurentian University, Canada
Conflict in Sri Lanka – Demographic Factors
Central Intelligence Agency, Washington, DC. Unclassified document
How Canadian Legislators Reacted to Two "Genocides" Claims and Canada's Claimed Support for Conflict prevention in Sri Lanka
Dr. Chandre Dharmawardana, Ph.D.
Université de Montreal, and the National Research Council of Canada.
OIDA International Journal of Sustainable Development, Volume 12, Issue 06, Pg. 11-18, 2019.
Abstract
In this study, we attempt to make a brief comparative study of the reaction of Canadian legislators to two claims of genocide that have been placed in front of them, namely, (a) the genocide of Canada's indigenous people, and (b) the genocide claimed by a diaspora group of Tamils residing largely in Ontario that they faced genocide in their own country of Sri Lanka. Diaspora aspects and Tamil claims will be treated more fully as the facts are less familiar to Western readers.
Keywords: Genocide, indigenous people, Sri Lanka Tamils, Diaspora
Full Paper Download pdf
The remit of conflict-framing for conflict-resolution and peacebuilding: a selected comparison of cases in Nigeria, Rwanda, Sri Lanka and Myanmar
Christopher Isike, Ph.D.
University of Pretoria, South Africa.
OIDA International Journal of Sustainable Development, Volume 12, Issue 06, Pg. 19-26, 2019.
Abstract:
This paper examines the implications of framing a conflict for the peacebuilding process given the often divergent perspectives the conflicting parties have of the conflict. In this context, the paper focuses on the framing of armed conflicts in Nigeria, Rwanda, Sri Lanka and Myanmar as civil war or genocide and the implication of these framings for conflict resolution, reconciliation and peacebuilding. It mainly discusses what is framed as the "civil war" in Nigeria and "genocide" in Rwanda and uses both to examine armed conflicts in both Sri Lanka and Myanmar. The main argument made is that conflict-framing does have implications for how conflict plays out, its resolution and the post-conflict reconciliation phase, and as such framing an armed conflict as genocide is useful if it is aimed at informing reconciliation not shaming and blaming. Therefore, the need to frame the conflict should not overshadow reconciliation, as findings way to resolve the differences between the warring parties is very important to instituting peace within the society. The paper thus concludes that the aim of framing and understanding the dynamics of a conflict should be geared towards instituting adequate reconciliation that will bring about lasting peace.
Keywords: Framing Conflict, reconciliation, genocide
Full paper Download pdf
The Ongoing Genocidal Crisis of the Rohingya Minority in Myanmar
John P. J. Dussich
California State University, Fresno, California, USA.
Journal of Victimology and Victim Justice 1(1) 4–24.
Abstract: The serious plight of the Rohingya ethnic group's extreme victimization in Myanmar has finally emerged on the international stage. They are mostly a stateless Muslim minority from the state of Rakhine which, over recent decades, have been abused by severe and repeated multiple human rights violations. There are now approximately 850,000 displaced Rohingya refugees mostly in
Bangladesh and surrounding countries with thousands more waiting in peril between Myanmar and Bangladesh. The saga of the Rohingya dilemma has been fraught with complex ethno-religious conflicts between Buddhist, Muslim and Hindu factions exacerbated by the scale of people involved, rapidity of events, recency of occurrences, abject poverty, racial hatred, linguistic differences, confused ancestral rights, severe humanitarian violations, genocidal policies, surrounded by nations themselves struggling with few resources. The present-day conflicted leadership in Myanmar between the military and the democratically elected leader of her government, Aung San Suu Kyi, has been severely criticized for their brutal continued ethnic cleansing.
Keywords Rohingya, Myanmar, Bangladesh, ethnic cleansing, genocide, Muslim, Buddhist, human rights, refugees, Aung San Suu Kyi
Download pdf
Straining to Prevent the Rohingya Genocide: A Sociology of Law Perspective.
Katherine Southwick
National University of Singapore.
Justice and the Prevention of Genocide, 12(3), pg 117-142.
Abstract
This paper analyzes the generally muted international response to the protracted plight of the Rohingya, a persecuted Muslim minority in Myanmar, from a sociology of law perspective. In recent years, some human rights experts and scholars have suggested that the legal terms "crimes against humanity" and "genocide" are applicable to the situation of this minority group. Under international law and practice, such claims implicate obligations to act on the part of the government of Myanmar and the international community. Yet international action on mitigating the risk of crimes against humanity and genocide has arguably been limited.
To help explain this limited international response, this paper draws from and adapts the now-classic sociological framework developed by Felstiner, Abel, and Sarat on the emergence and transformation of legal disputes. Following a background section on the Rohingya crisis and relevant international legal frameworks, this paper examines some of the factors that frustrate the processes of naming crimes, blaming perpetrators, and claiming rights and protection for the Rohingya minority in the international context. Work by Bumiller and Edelman concerning models of legal protection, legal ambiguity, and the mediating effects of symbolic structures of compliance augment the analysis. Ambiguity as to when to apply the terms crimes against humanity or genocide, the terms' interrelationship, and the legal and political implications that flow from naming such crimes, feed reluctance to act on the part of other states. A lack of a clear adjudication process further complicates naming, as authority diffuses to a range of institutions or actors who have variable power to name the crimes and determine appropriate actions in response. Competing political and economic considerations obfuscate states' willingness to engage the issue, and certain organizations and bodies are given mandates with limited capacity to enforce those mandates or to submit them to external scrutiny.
Together, these factors combine to portray a weak institutionalization of remedies, a condition which Miller and Sarat have recognized serves to minimize disputing and limit the probability of success. This weak institutionalization of remedies reflects a legal culture in international institutions that is constrained with respect to enforcement. Institutions depend significantly on political will and social consensus. While normative commitments are often invoked, the action is subject to the diffusion of responsibility in the naming, blaming, and claiming stages to a range of variously coordinated and politically motivated actors and institutions. This sociological approach thus helps to clarify fundamental constraints on the international legal system in responding to mass violence. It in turn identifies bottlenecks and areas for potential reform and raises questions as to the uses and limits of law in improving prevention of and protection against mass atrocities.
Theoretical reflections of Tamil ethnic conflicts in Sri Lanka and Rohyngya group in Myanmar
Masudur Rahman, Ph.D.
Emeritus, Nord University, Norway.
OIDA International Journal of Sustainable Development, Volume 12, Issue 06, Pg. 27-30.
Abstract: Bangladesh was praised internationally for sheltering the fleeing Rohingyas. But, there was little international involvement in the repatriation process. The roles of its friendly countries, China, India, Russia, Japan, the regional economic and military powers, have been disappointing. The role of China, in particular, is crucial. Bangladesh government lacked diplomatic skills to convince the international community, including its friends, to get them involved in multilateral negotiation and, to create pressure on Myanmar. One school claims that ethnic and national identities are constituted by common objective pre-existing characteristics, such as language, race, religion etc. These characteristics are shared and constitute the basis of unity of people, and distinguish from other people with different characteristics. Another view perceives ethnicity and nationality as ideologically socially constructed and, politically manipulated by elites for control over resources and privileges. Thus language, religion, and territorial affinity acquire their importance when they are used as a basis for awareness creation and social mobilization. The Tamils in Sri Lanka are an example.
Keywords: Politically manipulated, repatriation, Rohingyas, Tamils.
Full paper – Download pdf